Why Choose Acumatica for Distribution Management
Acumatica Cloud ERP is the connected business platform empowering customers to transform their business by putting customer success at the heart of all their operations.
Improve customer satisfaction while minimizing cost


Efficiently manage distribution processes with real-time visibility of available inventory, inventory in transit, reorder quantities, and inventory costs. Minimize inventory and costs; optimize quoting, acceptance, entry, and fulfillment processes.

Reduce order times


Eliminate delays through automated sales order processing and shipping order generation. Set rules to manage multiple warehouses, returns, credit limits, drop shipments, and more.

Know your true costs
Determine real-time profitability by warehouse, product line, location, or business unit. Use real-time information to control costs across the entire supply and distribution chain.

Know Where Your Business Is
Ensure a steady supply of materials by optimizing and automating your purchasing process.
Key Benefits of Acumatica Cloud ERP
Cloud ERP has been proven to reduce costs in many ways because it:
Avoids upfront costs for computing infrastructure such as hardware and data servers
Reduces IT support services because IT is in the cloud
Eliminates paying upfront for application software licenses
Shrinks the cost of maintaining and supporting applications since the cloud vendor handles the updates and upgrades
The most important benefits of Cloud ERP go beyond hard-dollar cost-savings and include:
Pay only for the computing resources needed
Fixed monthly rates so companies can use their cash on other business initiatives
Take advantage of Cloud ERP applications faster since installation of hardware and software on servers or user devices is not required
The ability to adjust the amount of cloud service as a company's computing or storage needs fluctuate
Confidence that the data has been backed up and there is a disaster recovery plan
Avoid cyber-attacks on the company's server because the data in not stored locally, but in the cloud
Access the system from anywhere makes it easy for a company to expand geographically, since the Internet is everywhere and there is no need to implement hardware and software at remote locations
More importantly, it is designed to respond to and overcome the inflexibility of many existing ERP solutions. This is done by allowing choice of:
Functionality you wish to license with the Acumatica standard suites as well as optional add-on features
Computing power and data storage size needed now and when the business changes
Deployment options ranging from SaaS, hosted in a private cloud or on-premise, which can be switched as needs change
Licensing models of annual subscription or perpetual license
Data access to copy or move the data at any time, unlike many systems
Device mobility to easily switch between desired mobile device such as an Apple iPad, iPhone and Google Android or use a Windows, Mac or Linux desktop computer.
Time to Modernize your ERP System
Your ERP system is at the heart of your business and nobody looks forward to a heart transplant. Yet, if the system is not supporting the needs of the business, has become too expensive to maintain, limits your flexibility or inhibits customer service, a replacement is the only answer. Your next ERP system is a major business decision, and a major commitment of time and resources, but, to meet the needs of the future, a replacement should be evaluated now.
Acumatica was built for the new cloud and mobile world and as such is comprehensive, while designed to be flexible, scalable and adaptable as business needs constantly change. It includes personalized Business Intelligence, to work with applications designed for your industry, enabling a real-time view of your business. To improve today's workforce's productivity, it is also familiar and easy to use. Acumatica Cloud ERP is accessible anytime, anywhere, through any device with a browser.
About Acumatica
Acumatica was founded in 2009 when they saw the opportunity to do things differently. From the ground-up, Acumatica was built for the cloud. This is written into the company's DNA and allows customers to benefit from having a True Cloud solution. Acumatica Cloud ERP is a flexible and cost-effective option for small and medium-sized businesses.
Acumatica ERP delivers adaptable cloud and mobile technology with a unique all-inclusive user licensing model, enabling a complete, real time view of your business anytime, anywhere. Through their worldwide network of partners, Acumatica provides the full suite of integrated business management applications, including Financials, Distribution, Manufacturing, Project Accounting, and CRM. There is only one true Cloud ERP platform designed for mid-sized customers – Acumatica.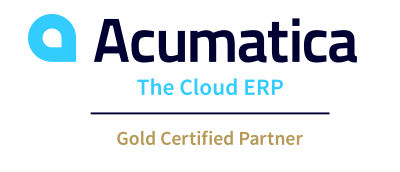 Central Data is proud to be an Acumatica Business Partner
Acumatica is sold only through business partners worldwide which guarantees you work with a local partner like Central Data. We are in your area, meet with you face-to-face and understand your needs first hand. Small and mid-sized businesses like yours have diverse needs and as your partner, we will be on location to better adapt to and meet your requirements.