FACTS v9.3 Now Available: Upgrade Today
Infor Distribution FACTS V 9.3 is now available. If you are running an older version, your business is missing features and functionality that could be saving you time and money.
Interested in migrating over to Infor CloudSuite Distribution, contact us today for a demo and migration plan.
FACTS for Distributors
Infor Distribution FACTS is designed to help distributors reduce inventory costs while simultaneously improving customer service.
Since its inception, FACTS has been a leading ERP distribution system that is easy-to-use and at a price point that is affordable. Delivering innovative features and functionality, FACTS is a proven ERP distribution platform that enables customers to streamline processes and maximize resources. With a track-record that is unparalleled in the industry, FACTS allows distributors to enhance customer service, optimize inventory levels, increase productivity and improve profitability.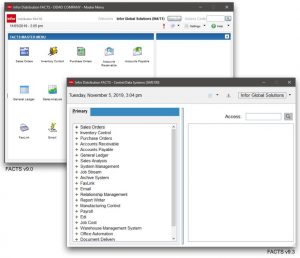 "The functionality enhancements delivered in Infor Distribution FACTS are designed give distributors the flexibility and out-of-the-box process automation they need to speed operations and generate savings in areas such as inventory and credit card processing," said Lisa Russell, Infor Distribution strategy director.
Benefits of Infor Distribution FACTS:
Supply chain management: As a distribution company, you sit at a critical intersection in the supply chain. You're responsible for efficiently moving and managing goods and materials, while finding flexible ways to foresee customer requirements and even get ahead of the curve on demand and supply. Distribution FACTS has the right features that will enhance the way you sell, source, and deliver goods to customers:
Sales orders—Give users a fast and accurate tool to manage and monitor the entire sales process from contracts to quotes to invoices.
Inventory control—Allow purchasing agents and warehouse managers to manage by exception numerous distributor functions, including automated replenishment, cycle counting, and warehouse transfers.
Purchase orders—Manage the purchase of stock and non-stock orders, ensuring that purchase order prices are correct, and vendor-item costs and vendor costs contracts are maintained.
Warehouse management—Improve the efficiency of receiving, put-away, moving, counting, picking, and shipping to increase warehouse productivity and accuracy
A new Alert Control Center, which automatically creates and displays a user-specific checklist of action items. By consolidating tasks into a single, easily accessible location, users get a much-needed level of visibility to prioritize more pressing assignments, ensuring that urgent tasks are completed quickly and efficiently.
Integration directly with CenPOS, a payment processing application that allows distributors to accept a wider range of payment methods.
Decision-makers can now set minimum order quantities for specific warehouses or individual products. This option prevents users from entering sales orders that do not meet volume guidelines from suppliers and can be used to direct employees to pull inventory from a particular location.
More advanced lead time functionality for seasonal items. This gives distributors the agility to better accommodate fluctuating demand and helps to prevent businesses from stocking excess inventory.
Equipment Rental for FACTS
Equipment Rental for FACTS was created from the ground up to satisfy the varying needs of distributors who also derive revenue through equipment rental. Equipment Rental for FACTS fully meets the complex requirements for the rental industry, yet maintains the ease-of-use for which FACTS software products have long been famous.
The goal of Equipment Rental for FACTS is to generate meaningful profit for every item available for rental. From initial reservation through contract, return and invoice, FACTS provides the tracking and control needed to maximize profitability while providing the flexibility needed for enhancing customer service.
Available Reports Include:
Revenue Project Report
Provides a report of expected revenues from rental contracts and/or reservations within a user-defined time period.

Maintenance Schedule
Lists the scheduled maintenance dates for every item due for maintenance within the user specified time frame.

Late Returns
Prints a listing of all items that are out on rental beyond their expected return date.

Equipment Status
Lists the number of units stocked for each item and whether it is available for rent, out on rental, in maintenance or at check in.

Rental History / Usage Analysis
Prints the past 12 months history of item usage. Information included is number of rentals, rental revenue derived, usage and current stocking level.

Reservations
Provides a listing of all rental reservations, exceptions to standard rates are noted.

Equipment Investment Analysis
This report provides managment with a tool to measure and evaluate the profitability of rental items. Evaluation includes total investment (costs), total income from rentals profit and ROI.

Central Data is a leading support partner of Infor Distribution FACTS.