Central Data named Infor 2019 Partner of the Year: Cloud Distribution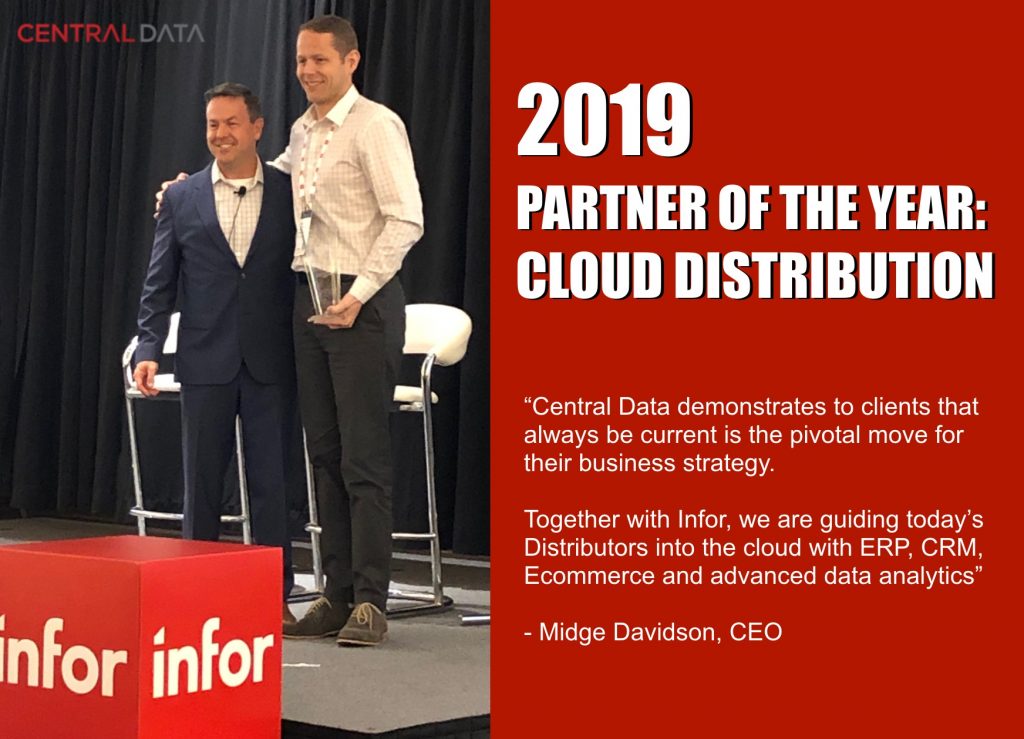 FARMINGTON HILLS, Sept. 23, 2019 /PR – Central Data, a leading provider of ERP solutions to Wholesale Distributors received the 2019 Cloud Distribution Partner of the Year award. This was Central Data's 2nd consecutive year earning this top honor. The award was announced at Inforum, an Infor Partner Summit being held in New Orleans.
"Infor is excited to formally recognize these key partners for their commitment to business growth, high levels of service and the unparalleled value they provide to support customer success globally," said Jeff Abbott, executive vice president, Infor Partner Network. "Infor is committed to the success of our global partner ecosystem, and our aim is to help ensure that Infor partners receive the highest quality systems, training, support, and enablement in the industry."
"Central Data demonstrates to clients that always be current is the pivotal move for their business strategy. Together with Infor, we are guiding today's Distributors into the cloud with ERP, CRM, Ecommerce and advanced data analytics." said Midge Davidson, CEO, Central Data.
https://www.prnewswire.com/news-releases/infor-announces-2019-infor-partner-summit-awards-300923034.html